From one brush to the #1 Brand Preferred by Pros.*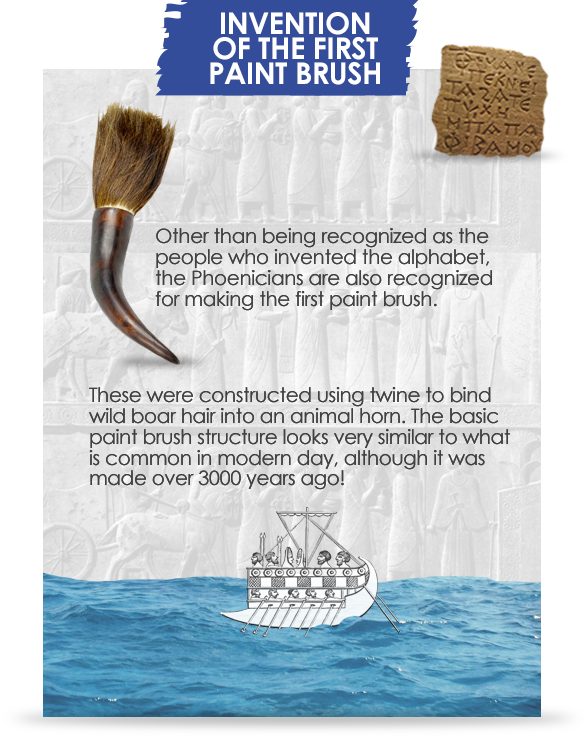 INENTION OF THE FIRST PAINT BRUSH
Other than being recognized as the people who invented the alphabet, the Phoenicians are also recognized for making the first paintbrush. These were constructed using twine to bind wild boar hair into an animal horn. The basic paintbrush structure looks very similar to what is common in modern day, although it was made over 3,000 years ago!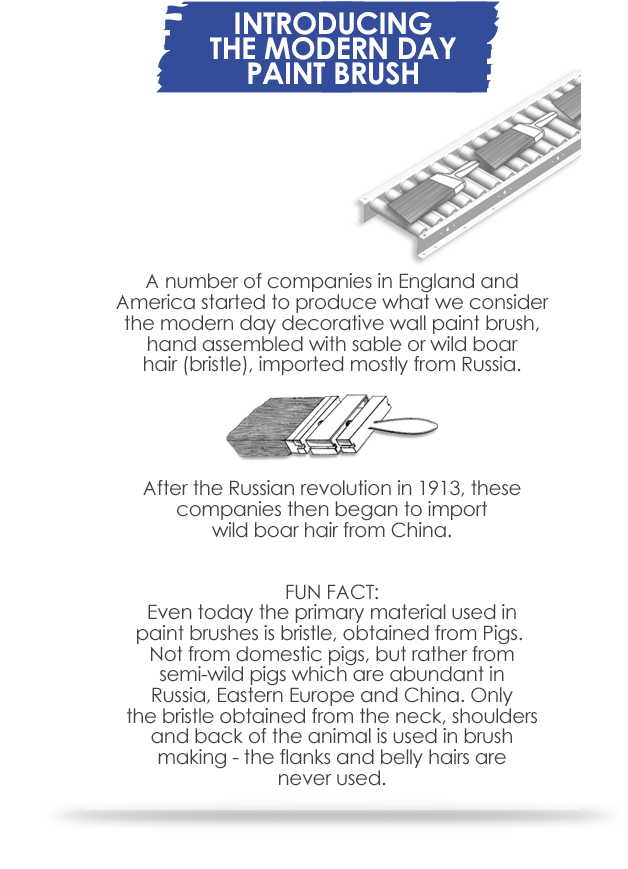 INTRODUCING THE MODERN DAY PAINT BRUSH
A number of companies in England and America started to produce what we consider the modern day decorative wall paint brush, hand assembled with sable or wild boar hair: bristle, imported mostly from Russia. After the Russian revolution in 1913, these companies then began to import wild boar hair from China.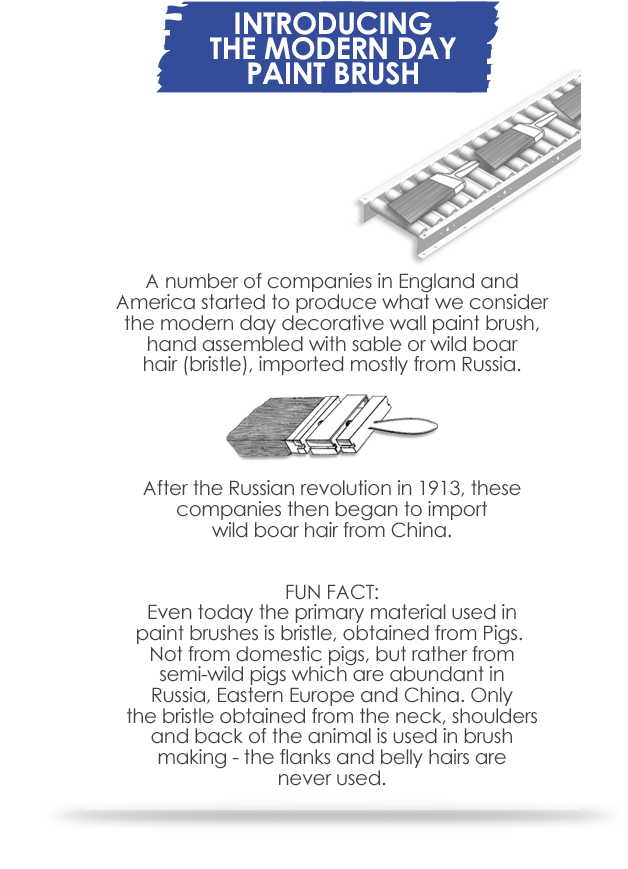 FUN FACT
Even today the primary material used in paint brushes is bristle, obtained from Pigs. Not from domestic pigs, but rather from semi-wild pigs which are abundant in Russia, Eastern Europe and China. Only the bristle obtained from the neck, shoulders and back of the animal is used in brush making - the flanks and belly hairs are never used.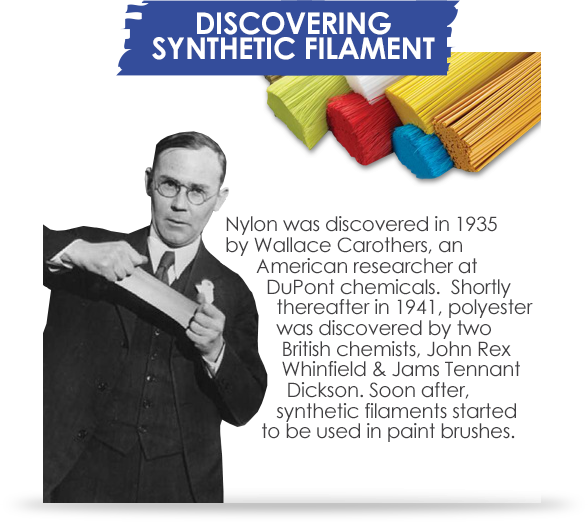 DISCOVERING SYNTHETIC FILAMENT
Nylon was discovered in 1935 by Wallace Carothers, an American researcher at DuPont chemicals. Shortly thereafter in 1941, polyester was discovered by two British chemists, John Rex Whinfield & Jams Tennant Dickson. Soon after, synthetic filaments started to be used in paint brushes.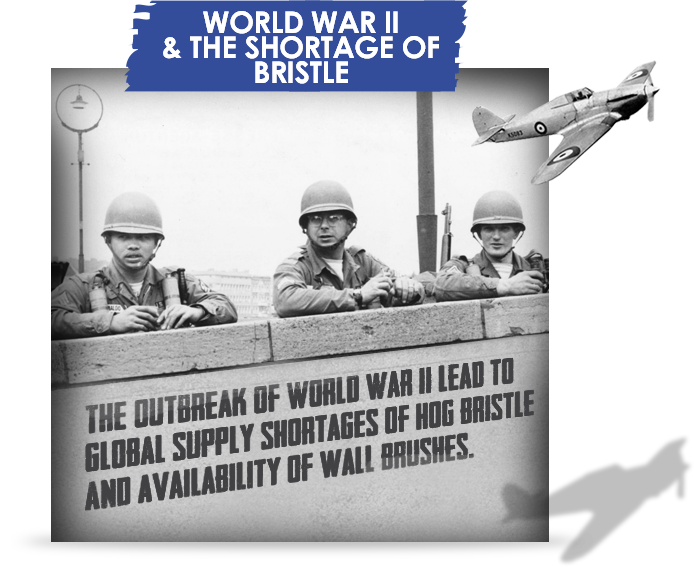 WORLD WAR II & THE SHORTAGE OF BRISTLE
THE OUTBREAK OF WORLD WAR II LEAD TO GLOBAL SUPPLY SHORTAGES OF HOG BRISTLE AND AVAILABILITY OF WALL BRUSHES.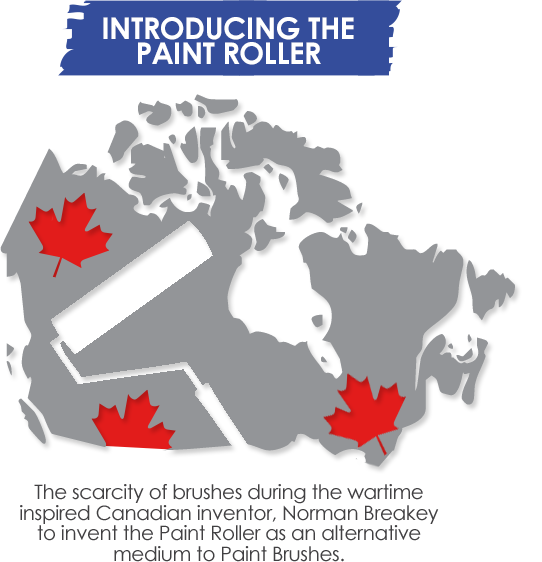 INTRODUCING THE PAINT ROLLER
The scarcity of brushes during the wartime inspired Canadian inventor, Norman Breakey to invent the Paint Roller as an alternative medium to Paint Brushes.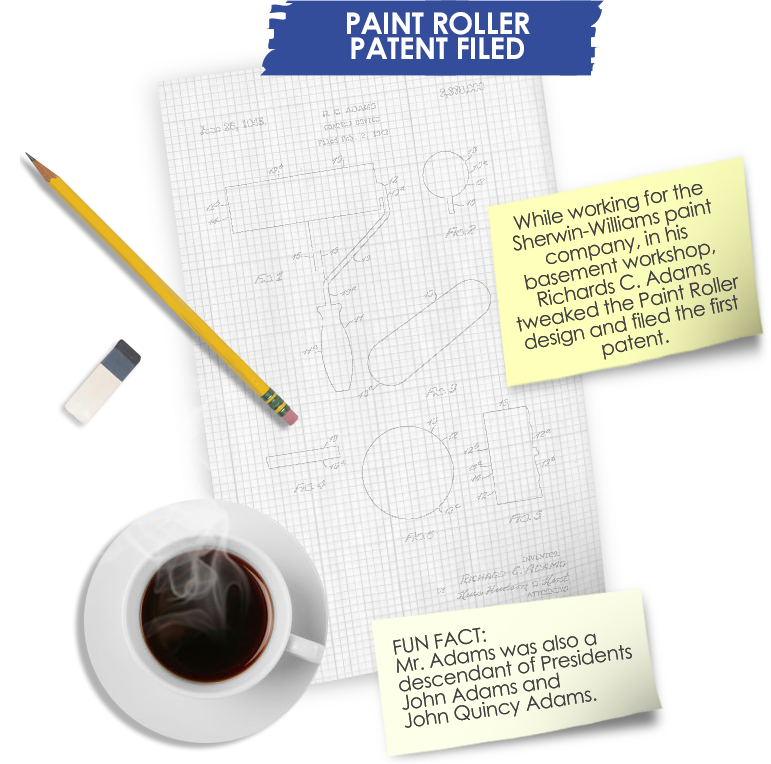 PAINT ROLLER PATENT FILED
While working for the Sherwin-Williams paint company, in his basement workshop, Richards C. Adams tweaked the Paint roller design and filed the first patent.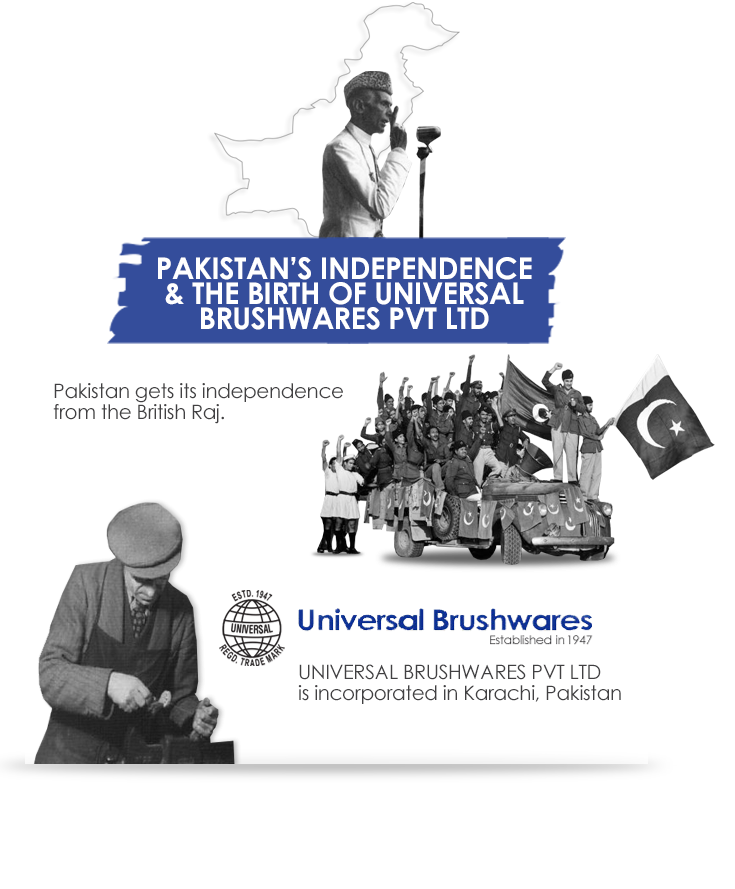 FUN FACT
Mr. Adams was also a descendant of Presidents John Adams And John Quincy Adams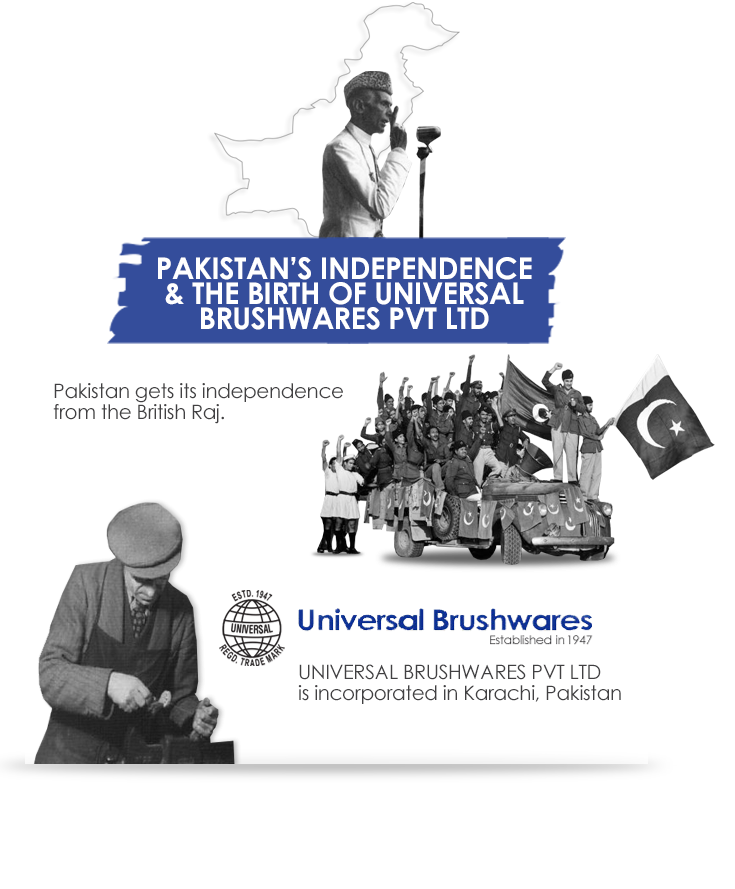 PAKISTAN'S INDEPENDENCE & THE BIRTH OF UNIVERSAL BRUSHWARES PVT LTD
Pakistan gets its independence from the British Raj. Universal Brushwares Pvt. Ltd is incorporated in Karachi, Pakistan.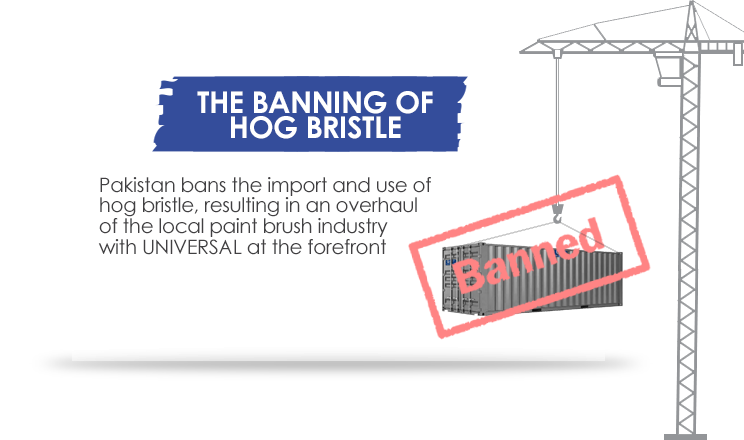 THE BANNING OF HOG BRISTLE
Pakistan bans the import and use of hog bristle, resulting in an overhaul of the local paint brush industry with Universal Brushwares at the forefront.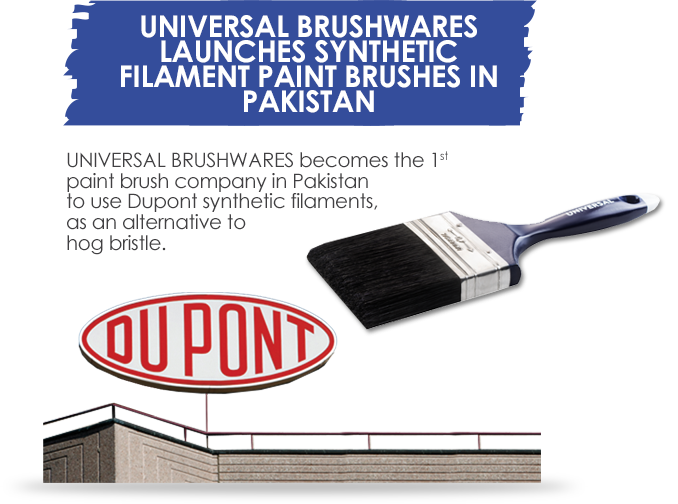 UNIVERSAL BRUSHWARES LAUNCHES SYNTHETIC FILAMENT PAINT BRUSHES IN PAKISTAN
Universal Brushwares becomes the 1st paint brush company in Pakistan to use Dupont synthetic filaments, as an alternative to hog bristle.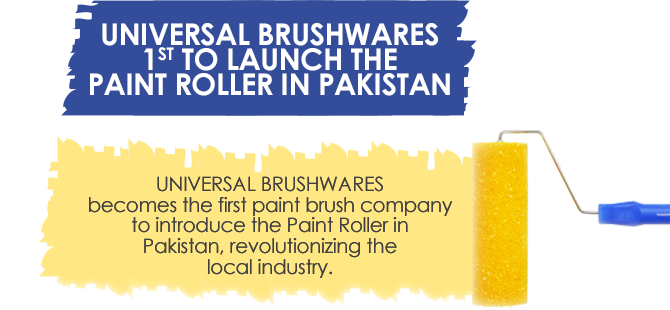 UNIVERSAL BRUSHWARES 1ST TO LAUNCH THE PAINT ROLLER IN PAKISTAN
Universal Brushwares becomes the first paint brush company to introduce the Paint Roller in Pakistan, revolutionizing the local industry.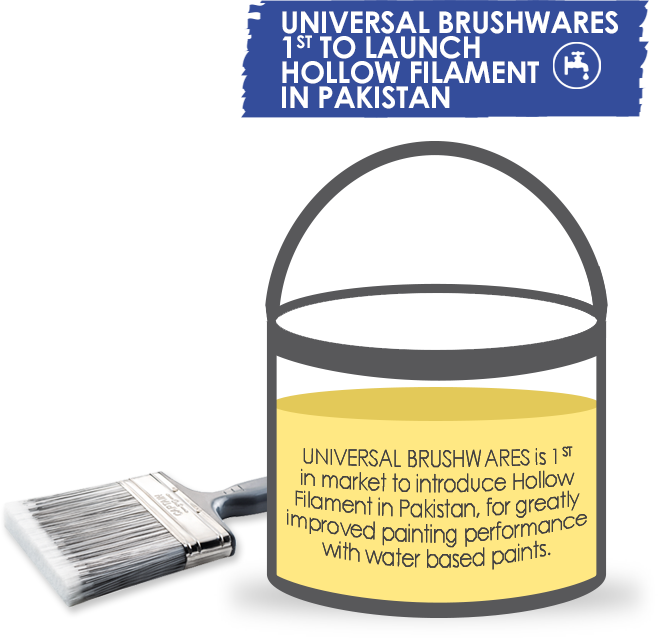 UNIVERSAL BRUSHWARES 1ST TO LAUNCH HOLLOW FILAMENT IN PAKISTAN
Universal Brushwares is 1st in market to introduce Hollow filament in Pakistan, for greatly improved painting performance with water-based paints. The Captain paint brush is born.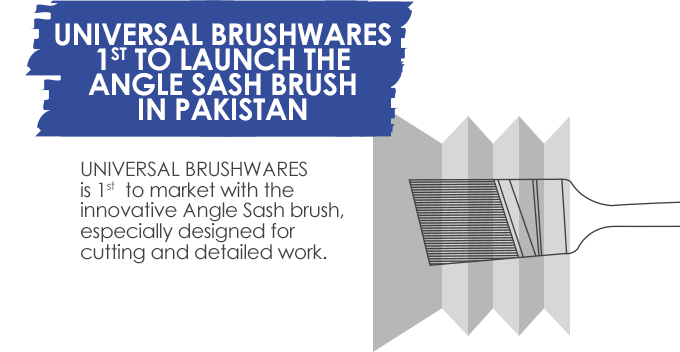 UNIVERSAL BRUSHWARES 1ST TO LAUNCH THE ANGLE SASH BRUSH IN PAKISTAN
Universal Brushwares is 1st to market with the innovative Angle Sash brush, especially designed for cutting and detailed work.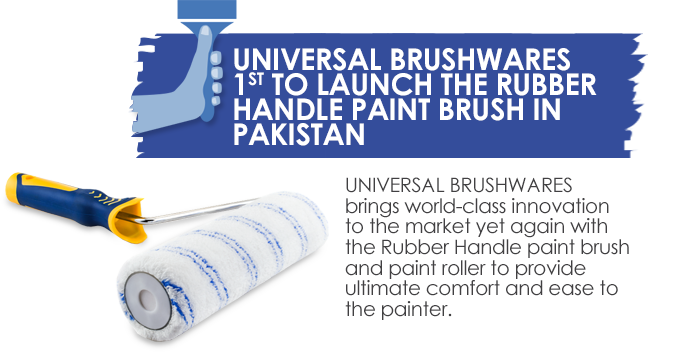 UNIVERSAL BRUSHWARES 1ST TO LAUNCH THE RUBBER HANDLE PAINT BRUSH IN PAKISTAN
Universal Brushwares brings world-class innovation to the market yet again with the Rubber Handle paint brush and paint roller to provide ultimate comfort and ease to the painter.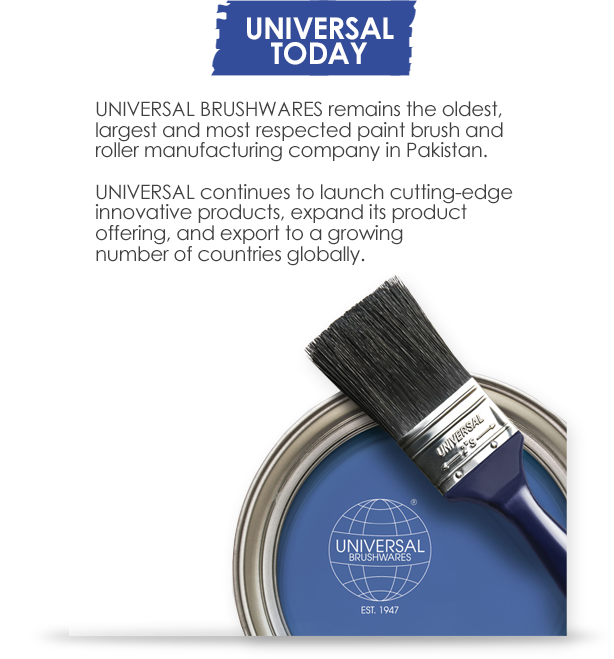 ABRASIVES & OTHER PREPARATION TOOL
Universal Brushwares, launches its own brand of high quality abrasive papers, sanding rolls and paint related hand tools for surface preparation.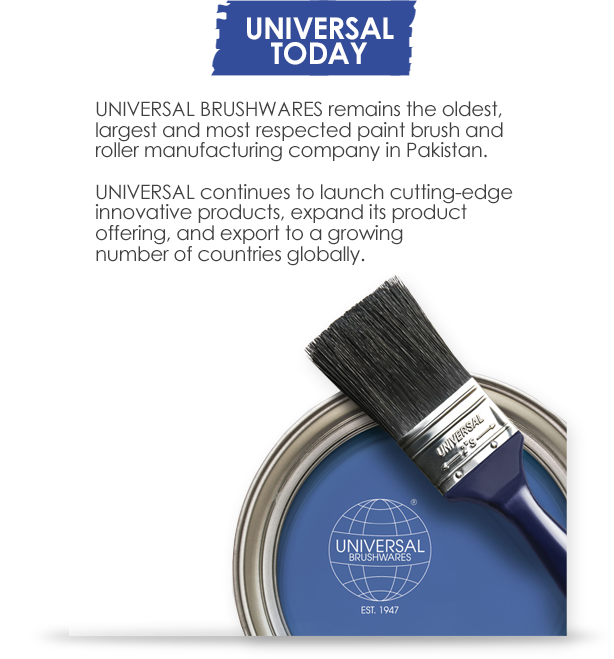 NEW FACTORY
Universal finished into its new state of the art manufacturing facility which has now expanded to over 100,000 sq ft of industrial excellence, located centrally in one of Pakistan's premier industrial zones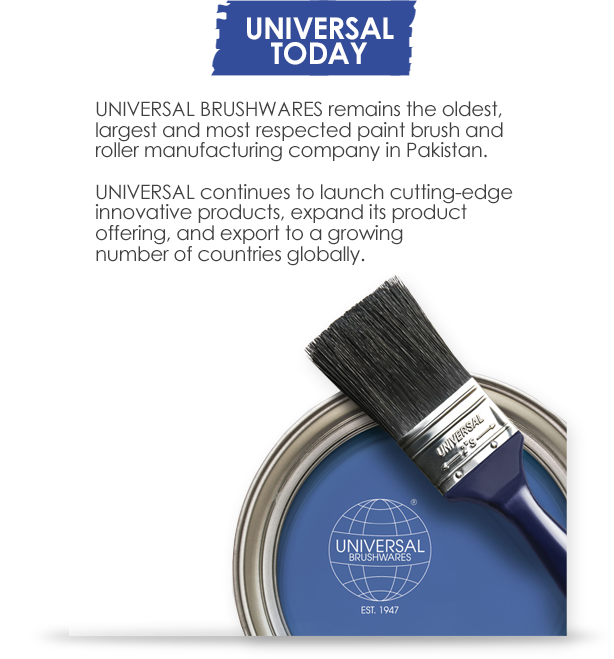 EUROPEAN PLANT
Making a quantum leap in automation, Universal Brushwares rehauls major parts of its manufacturing of paint brushes and paint rollers.  Choosing to align with international best standards, the machinery were carefully selected from the world's leading suppliers of paint brush and paint rollers machinery.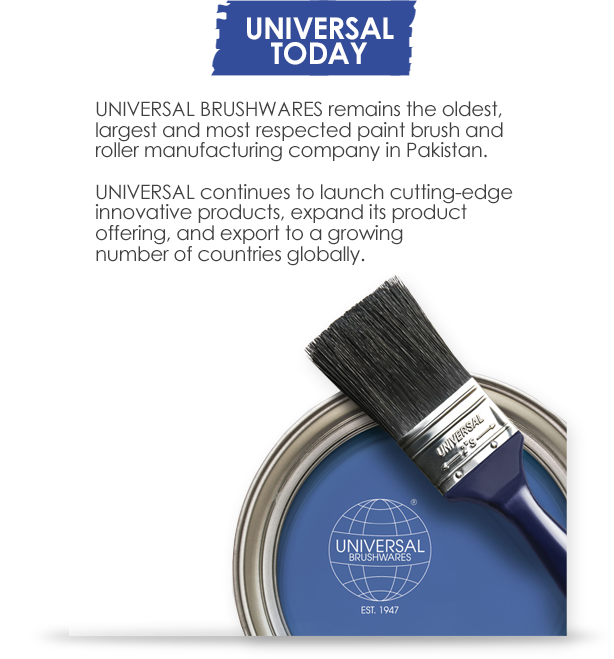 MINI ROLLERS
Seeing the growing need for using paint rollers is smaller areas Universal Brushwares launches its own Mini Roller series. Always trying to meet, adapt and anticipate the Painter's needs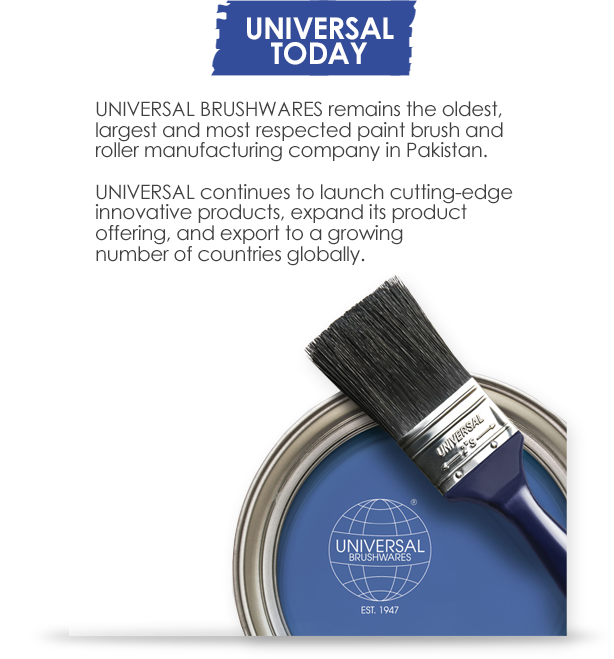 GREEN ENERGY
In our commitment to environmental sustainability & responsible business practices, Universal Brushwares has installed a large scale solar panel installation at its facility. Adjusted its energy mix to one third renewable energy.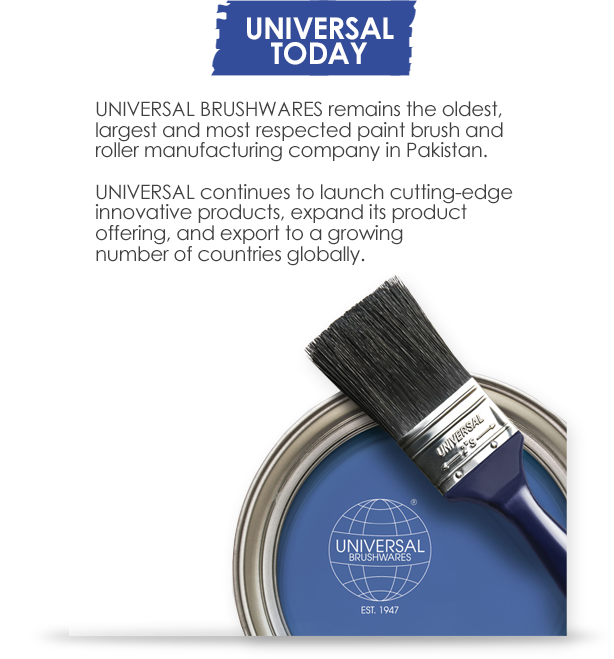 FIRST PAINTBRUSH FILAMENT PLANT IN PAKISTAN
Installed an European filament extrusion machine, vertically integrated a critical production material. This is Pakistan's first every paint brush filament extrusion plant.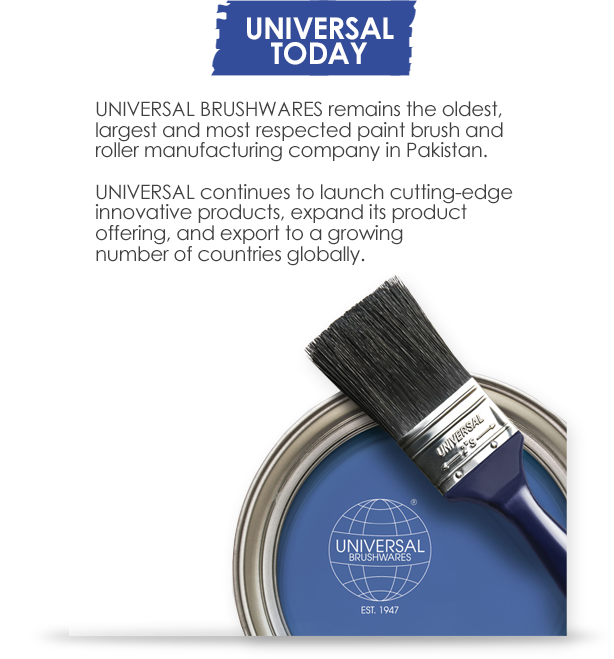 MASKING TAPE
Introduce high quality masking tape.  Yet again added key product to help painters deliver the best results.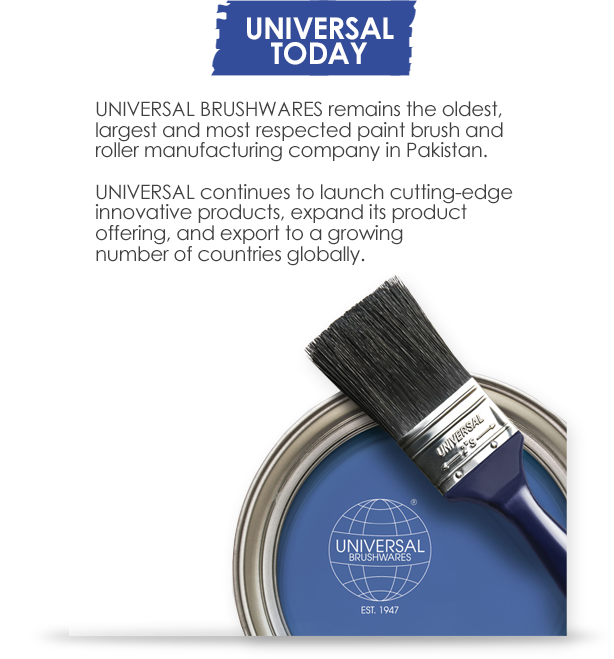 CHEMICALLY TAPERED FILAMENTS
Installed a plant to start Pakistan's first filament tapering facility.  Helping enhance the quality of paint brush filaments and bringing internal control of raw materials into the companies' hands.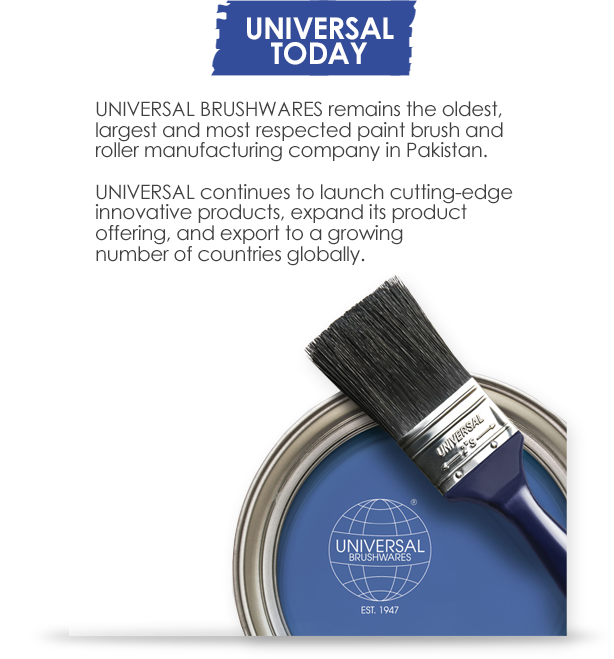 UNIVERSAL BRUSHWARES
UNIVERSAL BRUSHWARES remains the oldest, largest and most respected paint brush and roller manufacturing company in Pakistan. UNIVERSAL continues to launch cutting-edge innovative  products, expand its  product offering, and export to a growing number of countries globally.